Laboratory auxiliary material
Auxiliary equipment means all the support furniture in a laboratory. Anti-vibration tables, CPU holders, transport trolleys, testing booths and junction boxes. These are some of the examples of auxiliary equipment made available by Industrial Laborum Ibérica.
All auxiliary equipment is provided with good mechanical strength, structural and dimensional stability, high corrosion resistance, construction with imperceptible joints and homogeneous surfaces to prevent the accumulation of contaminants and facilitate cleaning.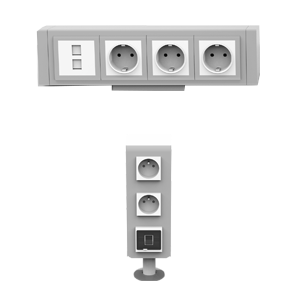 Electric blocks (single, double or triple) to be integrated on bench tops.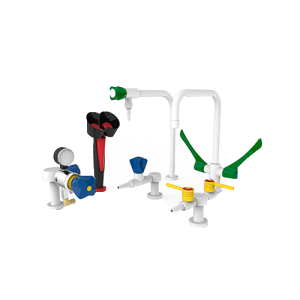 Various models of faucets and valves, specifically designed for laboratory or hospital environments, following all hygiene and safety criteria.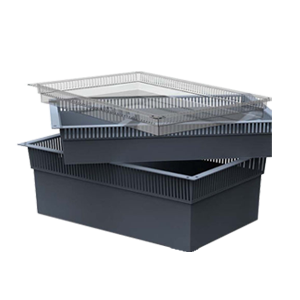 Drawer baskets and dividers allow for easy organization and identification of materials in cabinets and shelves, ensuring safety and easy cleaning. DIN and ISO model.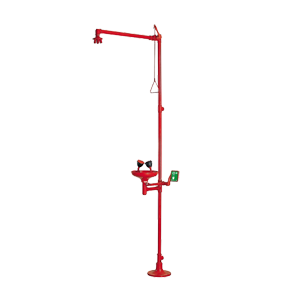 Emergency showers and eyewash
Showers and eyewash stations are an emergency measure and the first aid in the workplace in the event of an accident with acidic and chemical substances.
Transport carts for support in laboratories and hospitals.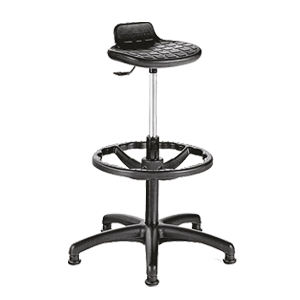 Chair and bench models suitable for each laboratory and the needs of its users.
Dishwasher
The sink modules are designed and engineered by Industrial Laborum for introduction into countertops and washing modules. Developed in three different materials (phenolic compact, stainless steel and polypropylene), all materials are certified and have high chemical resistance that ensures that users' needs are met.

The sinks can be made with drainers or smooth, and there is the possibility of being supplied with a marine perimeter rim to retain any spillage of liquids.
Sinks and Drip Cups
The sinks and drip cups are intended for material washing and for the disposal and supply of water in the laboratory. Developed specifically for use in laboratories, they all have high chemical resistance and structural stability.

The fixing of the sinks can be carried out in various ways, mounted under the surface, flush with the surface, perched or recessed.

Once again, Industrial Laborum will advise on the most appropriate way to make this fixation, taking into account the typology of the sink, the materials of the sink and the work surface.
Anti-vibration tables
The Anti-Vibration Table is equipped with a vibration dampening system for placing highly sensitive equipment (eg scales). It has different possibilities of work surfaces (Post Forming, Compact Phenolic Resins, Stainless Steel) with high chemical resistance with an independent area, covered in stainless steel, isolated from the vibrations of the external structure supporting the table. The anti-vibration tables have the following configurations: single, double or triple.
Chairs and Stools
Industrial Laborum Ibérica's line of chairs and benches meets the requirements of occupational medicine specialists in terms of equipment at their workstations, due to their ergonomic design. Even in desk activities, a frequent change of position must be ensured. Thus, all our models have simple controls and can be individually adjusted.

The anatomical upholstery contributes to a more comfortable position as they provide greater freedom of movement.
Emergency showers and eyewash
Emergency shower and eyewash are essential to safeguard the safety of workers in a workplace, as they avoid serious consequences for workers' health in the event of an accident with chemical materials. They are part of the Collective Protection Equipment (EPCs) and are especially necessary in work spaces where workers are in contact with chemical or hazardous materials that can cause burns or serious problems in workers' eye health, such as laboratories, workshops, among others. .

Its function is to clean and sanitize as quickly and effectively as possible any part of the body that has been contaminated by any type of chemical and hazardous matter.
Industrial Laborum Ibérica specializes in the laboratory sector and advises on the best ventilation system to use in your laboratory space.
All fans used in our projects are certified and recommended for use in laboratories, entirely made of polypropylene, being resistant to other chemicals. For ATEX environments there are also fan solutions with ATEX designation, available in all formats on request.

Industrial Laborum Ibérica is a company with 44 years of experience in the market, which seeks to bring the quality factor to all laboratories. Through customers in the most diverse areas, such as health, education and different industries, ILI has acquired know-how that allows it to create solutions for the needs or requests of its customers. We are here to develop labs for people.