Pathological Anatomy Hotte
A hood model that helps to control the user's exposure to hazardous substances during handling in pathological anatomy works
The ideal hood to ensure safety in laboratory work on pathological anatomy
This premium model by Industrial Laborum Ibérica was developed for chemical and pathological anatomy laboratories in order to control exposure to gases, fumes, vapors, aerosols and other hazardous substances when users carry out laboratory work in this area.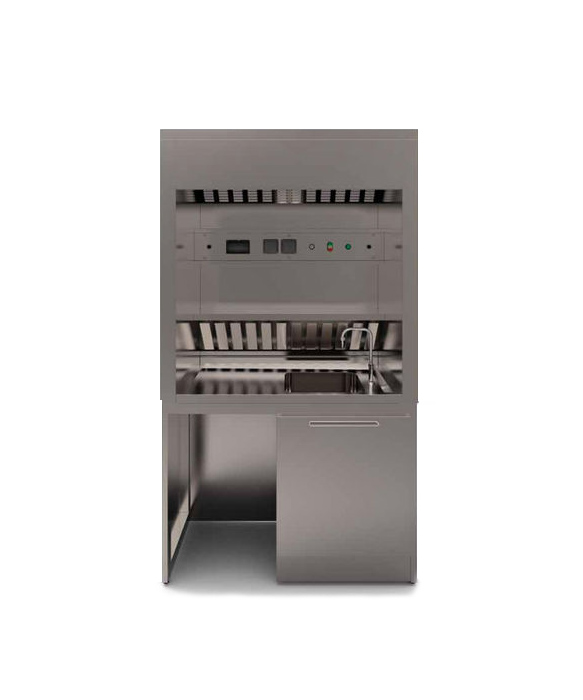 This is Industrial Laborum's Premium model, being a Pathological Anatomy Hotte developed in accordance with the standards IN 14175-2: 2003 e IN 14175-3: 2003.
Appointment CE according to the directives: 2014/30 / EU (Electromagnetic compatibility) and 2014/35 / EU (low tension).
An intuitive and modern control panel
The control panel is at eye level and each section presents a feature in the performance of the pathological anatomy hood:
1) Photoelectric cell sensor for washing the work plane;
2) Electric panel;
3) Electrical outlets;
4) General cut-off switch;
5) Lighting switch;
6) Ventilation switch;
7) Crusher activation button;
8) Water faucet photoelectric cell sensor;

Are you looking for specific solutions for your company?
We are available to contact you, as we also develop solutions for areas other than those mentioned above.

Industrial Laborum Ibérica is a company with 43 years of experience in the market, which seeks to bring the quality factor to all laboratories. Through customers in the most diverse areas, such as health, education and different industries, ILI has acquired know-how that is the perfect combination with each need or request of its customers. We are here to develop laboratories for people.