Our certificates are the first way to prove our quality and experience. Over the years
we have been guaranteeing our commitment to maintain certification, thus demonstrating our willingness to offer the
better to our customers.
Industrial Laborum Ibérica is certified according to the normative NP EN ISO 9001: 2015 - Quality management systems and NP EN ISO 14001: 2015 - Environmental quality management system. These certifications are audited annually by specialized technicians from the Bureau Veritas group, one of the most rigorous and recognized auditing companies in the world. Find out more information about our certificates.
FUME HOODS
Industrial Laborum Ibérica has several models of Hottes, adapted to the different needs of our customers.
All models follow the references:
IN 14175-2: 2003 - Fume cupboards.- Part 2: Safety and performance requirements.
IN 14175-3: 2019 - Fume cupboards.- Part 3: Type test methods.
IN 61010-1: 2020 - Safety requirements for electrical equipment for measurement, control, and laboratory use. - Part 1: General requirements.
IN 61326-1: 2013 - Electrical Equipment for Measurement, Control and Laboratory Use: General requirements.
Our range of ILI Hottes (1200, 1500, 1800 and 2100) are subjected to rigorous internal audits and by accredited entities subcontracted by our customers, in which they guarantee compliance with the references described.
The Indlab model Hotte (1200, 1500, 1800 and 2100) is tested and certified by the TÜV Nord according to:
- DIN EN 14175-1: 2003;

- DIN EN 14175-2: 2003;
- DIN EN 14175-3: 2019;
- DIN EN 14175-6: 2006;
- EK5/TA8_14-01:2015.
BENCHES
Our benches are certified by the TUV Rheinland according to the EN reference 13150:2020 - Workbenches for laboratories: Dimensions, safety requirements and test methods.
With this certification we subject them to stability tests, taking into account the normative reference EN 13150, guaranteeing its stability and balance.
These tests include:
- static static load test (600N horizontal on 4 sides of bench);
- Vertical static load testing (2000N vertically on 4 sides of bench);
- horizontal impact stability test (50Kg of a height of 40mm);
- vertical load stability test (1000N to 50mm from the end of the bed and half the length of the sides);
- Benchtop test (Raise the bench to 150mm from the floor by letting it fall freely.) Repeat: 10 times).
FURNITURE
EN 14727: 2005 - Laboratory furniture. Storage units for laboratories. Requirements and test methods.
EN 14056: 2003 - Laboratory furniture. Recommendations for design and installation.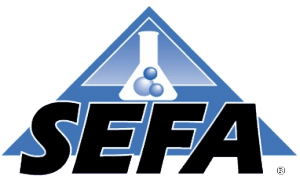 Industrial Laborum is the only Portuguese company member of the SEFA LABS organization that complies with the practices recommended by SEFA.
All of our laboratory products are SEFA 8 TESTED AND CERTIFIED, as a SEFA Member in full compliance with SEFA Recommended Practices.
SEFA 8M: 2021 - Laboratory Casework - Metal
As a SEFA member Industrial Laborum must comply with the established recommendations for the manufacture of laboratory furniture, as such subjected your furniture to the following tests:
- Base Cabinet Load test (Placement of 907,2 kg distributed throughout the furniture);
- Base Cabinet Concentrated load test (Placement of 90,718 kg in the center of the furniture);
- Cabinet Torsion (placing 158,8 kg on one side of the furniture and 90,72 kg on the opposite side);
- Door Hinge Test (Placing a weight of 90,72 kg on the furniture door);
- Door Impact Test (A 9 kg sandbag is suspended and dropped in the middle of the door);
- Door Cycle test (Test the durability of the door hinge after 100000 door opening and closing cycles);
- Drawer Static Test (Drawer opening at 330,2 mm and suspension of 68,03 kg in the middle of it);
- Drawer and door pull test (Application of a force of 22,7 kg with respective measurement);
- Drawer Impact Test (Removing the drawer and placing it on a support. Launching a 4,545 kg sandbag against the 609,6 mm height drawer);
- Drawer Internal Rolling Impact (Drawer placed a support with an angle of 45º and let a steel rod with approximately 4,535kg roll up to the faces of the drawer);
- Drawer Cycle test (45 kg are evenly distributed in the drawer. Performing 50000 drawer opening and closing cycles);
- Shelf Load test (Shelves loaded evenly across their area weighing 90,72 kg);
- Chemical test (The painting of the furniture is tested through resistance to 49 reagents between, acids, bases and solvents);
- Hot water (Diving in water with a temperature between 88º and 96ºC with an angle of 45º);
- Impact Test (Impact on the surface with a 0,450 kg ball);
- Paint Adhesion test (Test carried out with 2 sets of six parallel lines intersected with each other, cut with a blade and covered with tape. Subsequently, the tape is removed and the damage assessed);
- Paint Hardness (Test performed using a pencil with 15 different hardnesses);
- Wall cabinet load test (Placement of 272,73 kg distributed over the furniture and shelves);
- Table Staticload (Placement of 273 kg distributed over the table);
- Table Racking (Inclination of the table at 45º with one pair of legs resting on the floor and the other on a support, distribution of 114 kg on the table).