We have been developing solutions that focus on our customers' needs for over 4 decades.
Industrial Laborum Ibérica appeared in 1978 and since then it has been driving the laboratory industry. We are laboratory specialists but what we pride ourselves on is exceeding the expectations of those who work with our company.
Over 44 years, employees have become friends, customers in partners and our laboratories in ways to achieve the future.
We operate in several sectors, but the laboratory, hospital, education and pharmacy areas have a very important weight for our company. We develop customized solutions that will allow you to have the space you really need.
Forty-four years of a history marked by many people, achievements and learning.
After appearing in 1978, the company quickly went through a process of very accelerated growth, being that it was the only manufacturer and distributor of furniture for laboratories in Portugal. Four years after entering the market, the number of active projects of the organization began to attract a lot of attention, thus marking a time of change in this industry in Portugal.
It was with this growth in mind that, in 1998, Industrial Laborum Ibérica decided to optimize some of its processes and improve the attributes of its products, investing heavily in technology that would allow the organization to distinguish itself from the competition.
Our company allowed the development of an industry that until now was marked by imports, in Portugal. He combined quality, resulting from a highly qualified workforce, with the founders' experience in related areas to bring excellent products and services to customers around the world.
The company appears to combat a failure in the Portuguese industry. Until now, products from the laboratory sector were purchased from foreign companies.
Four years after starting activities, we have consolidated our market position with multiple active projects.
Adaptation is part of our DNA and to ensure consolidated growth, the organization has undergone some changes.
With a presence in very different countries, the year 2012 proved to be an accumulation of achievements at national and international level.
Safety and quality are a priority for us.
Although trust has been something we have been working on since 1978, we guarantee our customers products and services certified by two world-renowned companies.
In charge of Locksmith Production
At Industrial Laborum Ibérica, that's where I started my professional activity and where 28 years later I still find myself. Such a long-lasting relationship is only possible when all conditions are created for that.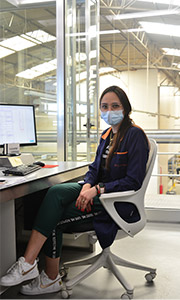 Working at ILI has been one of the best experiences of professional and personal growth; it is part of a team that works focused with dedication and commitment to achieve the same goal.
Do you want to know more about our company?
We always try to talk about everything, but sometimes a more personal contact is irreplaceable.

Industrial Laborum Ibérica is a company with 44 years of experience in the market, which seeks to bring the quality factor to all laboratories. Through customers in the most diverse areas, such as health, education and different industries, ILI has acquired know-how that allows it to create solutions for the needs or requests of its customers. We are here to develop labs for people.