LABORATORIES BENCHES
The laboratory flexibility may be understood as flexible structure, whose units allow mobility, reconfiguration and adaptability, yet maintaining its formal coherence in a metric system.
Accordingly, ILI develops its bench ranges based on a rational standardization in order to be easily adapted to the lab's specialization and purpose.
The laboratory benches are usually composed by a support system, a working surface, stroing modules (under and upper cabinets, shelves, etc) and complemented with services, accessories and auxiliary systems.
The metallic structural unit is dismountable, modular and self-bearing, allowing one initial module and an additional one. This logic enables the junction of different units forming central or wall benches, with two heights and several lengths.
The additional module's feature is the non-duplication of the legs, making the whole bench not only more economic but also lighter, without interfering with the versatility and stability of the furniture's disposition.
EXTRACTION SYSTEMS
The extraction hoods are intended for the collection and extraction of localized vapors, combustion residues and fumes, eventually at elevated temperatures and corrosives, in areas where high air flow rates are required. They may also serve to stabilize flame in burners.
They are intended to protect the laboratory environment, equipments and users when handling volatile substances and during work resulting in fumes and gases.
Exhaust hoods can be central if installed on central benches, or murals in case of installation on wall benches.
Another solution for laboratories are the extraction arms with three different types, which can be used in different situations:
Original model with aluminum tubes; anti-static ESD model; High chemical resistance model with polypropylene piping.



CABINETS
Industrial Laborum Ibérica's range of laboratory cabinets consists of lower modules for underbench application and overhead modules for over bench application.
The base modules have five different configurations: Fixed suspended; sliding suspended; with closed plinth; with open plinth; mobile furniture (casters).
The overhead modules have three different heights: Model 950, 750 and 600 with respectively 900, 750 and 600mm. These overhead modules presented by Industrial Laborum Ibérica are designed to be installed on all bench lines and can be attached to our shelving systems.
WASHING MODULES
The washing module consists of a base cabinet with possibility of doors and drawers configuration in different materials, featuring good mechanical strength and structural stability, high corrosion resistance and a construction with imperceptible joints and homogeneous surfaces to prevent the accumulation of contaminants and to facilitate cleaning. The cabinet has a rear opening for technical connections and for easy maintenance.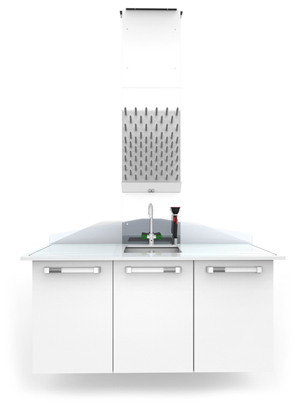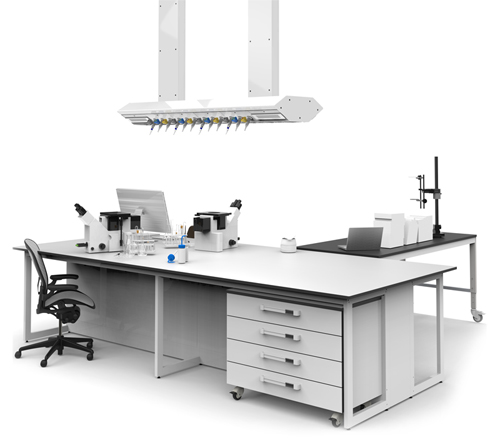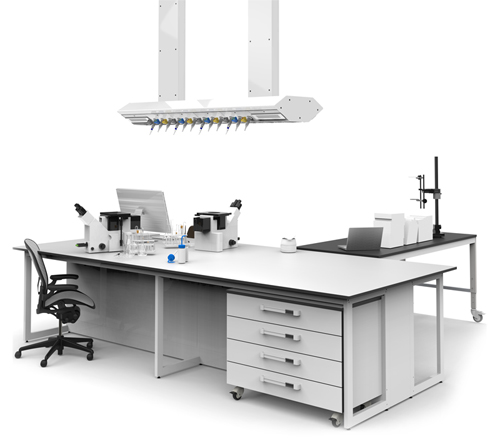 TECHNICAL WINGS
The Wing Gallery or Technical Wing for laboratory services supply, has a high resistance to corrosion, impact and abrasion, smooth surfaces that are easy to clean and to disinfect.
The services are ergonomically placed, thus ensuring, user satisfaction and the existing needs in the laboratory space. Services are provided through the ceiling to the panels through the interior of the technical wing.
The technical wings are pre-assembled and factory pre-assembled according to the laboratory plan and then properly tested.
SECURITY CABINETS
Industrial Laborum Ibérica presents two lines of safety cabinets with integrated ventilation and extraction and with closed plinth.
Reagent and plant protection cabinets with in-line fan connected to a watertight manifold mounted on the top of the cabinet for connection to the exhaust duct.
Cabinets for flammable products with extraction, presenting an air inlet and an outlet that automatically close in the event of a fire, and thus, prevent the entry of flames into the cabinet.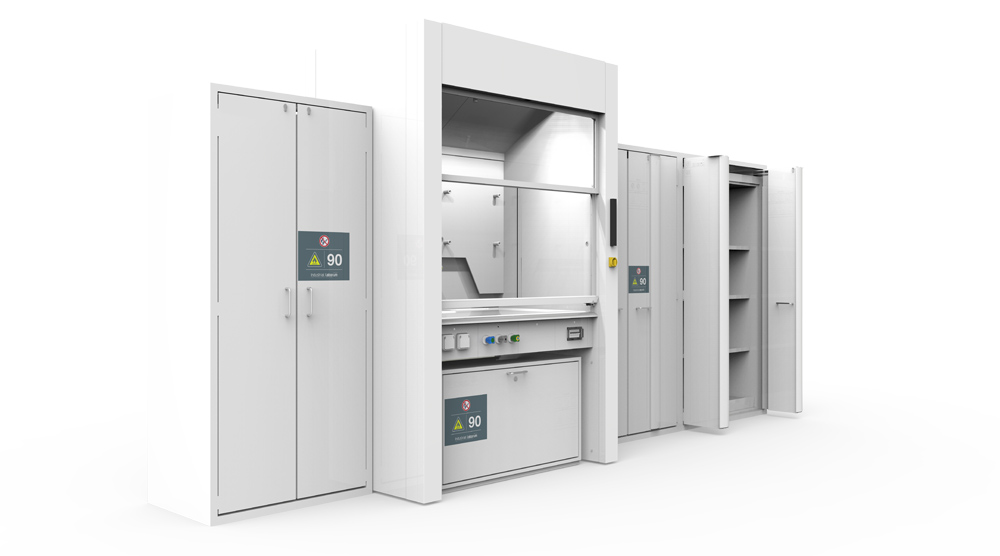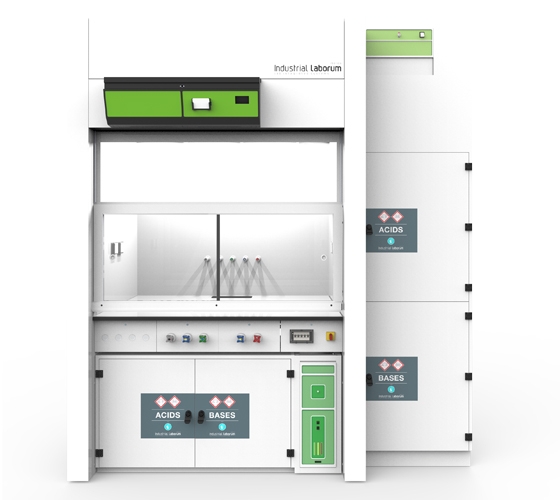 ACIDS AND BASES CABINETS
Acid and Bases cabinets with closed plinth of two types: lower for placement under the fume hoods and tall for storage areas.
The base cabinets are connected to the control and extraction system and the overhead cabinets are installed with an independent ventilation system.